Crock Pot Chicken Alfredo Tortellini–My favorite part of this recipe is it's easy!! I made this and it was delicious. Plenty of helpings. Next time I will freeze the leftovers.  Enjoy
This Crock Pot Chicken Alfredo Tortellini recipe is creamy and delicious! and only has 4 ingredients! It is one of the easiest crock pot slow cooker recipes you'll ever make.
Ingredients
2 to 2 1/2 lbs. boneless chicken breasts
15 oz jar of creamy Alfredo sauce (I used Bertolli's Creamy Basil Alfredo Sauce)
19 oz package of frozen cheese tortellini
1 cup shredded mozzarella cheese
Instructions
Place the chicken breasts  into a crock pot in a single layer . I used my favorite Crock Pot Casserole Slow Cooker.
Pour half the jar of Alfredo sauce over the chicken breasts.
Cover the crock pot and cook on low for 4-5 hours or high for 3-4 hours. Cooking time will depend on the thickness of the chicken pieces. Occasionally check for done-ness.
When the chicken is cooked through use two forks to shred the chicken pieces.
Cook the tortellini following the directions on the package. I followed the microwave cooking directions and the tortellini was cooked perfectly in just 5 minutes.
Add the cooked tortellini, the remaining Alfredo sauce and shredded cheese to the crock pot.
Mix well and recover the crock pot. Allow the cheese to melt and the tortellini and Alfredo sauce to come to the same temperature.
Serve with a bit of fresh grated Parmesan cheese if desired.
Makes 4-6 servings.
French Toast Bake
My cousin made this and posted the recipe from Rach's Blog. Everyone who ate it, raved about it.
** For those who are not familiar with Texas Toast, it is thickly sliced bread.  The slices are about double the thickness of standard sliced bread.  For a better description, click here **
Ingredient Checklist
1/2 cup melted butter (1 stick)
1 cup brown sugar
1 loaf Texas toast
4 eggs
1 1/2 cup milk
1 teaspoon vanilla
Powdered sugar for sprinkling
Directions
1. Melt butter in microwave & add brown sugar….stir till mixed.
2. Pour butter/sugar mix into bottom of 9 x 13 pan….spread around
3. Beat eggs, milk, & vanilla
4. Lay single layer of Texas Toast in pan
5. Spoon 1/2 of egg mixture on bread layer
6. Add 2nd layer of Texas Toast
7. Spoon on remaining egg mixture
8. Cover & chill in fridge overnight
9. Bake at 350 for 45 minutes (covered for the first 30 minutes)
10. Sprinkle with powdered sugar
11. Serve with warm maple syrup (I don't do the syrup part)– Crack eggs & get them started (on low)
– Pour mixture into 9 x 13 pan
– Spread evenly to cover bottom of pan
– Add milk & vanilla to egg mixture
– *Add 1 Tablespoon powdered sugar to egg mixture*
– Spread even layer of Texas Toast on butter/sugar layer
– *I cut off the crusts…this is NOT necessary….I just think it looks nicer…it was for a bridal shower*-
– After you have 1 even layer, ladle on 1/2 of egg mixture
– *Sprinkle brown sugar & cinnamon before next layer*
– Spread second layer of Texas Toast

– Ladle second half of egg mixture
– *Spread thin layer of butter*
– *Sprinkle lightly with white sugar & cinnamon*
(I think the butter & sugar help give the final product a crusty top….I could easily be wrong….but it sure doesn't hurt the flavor….and since this recipe is far from figure friendly…then why not?)
– Refrigerate overnight
– Bake at 350 for 45 minutes
– Sprinkle with powdered sugar
– Top should be crusty, middle should be soft & moist, & bottom is just glorious!
– The recipe calls for eating it with warm maple syrup. I did not do this….it would be way too sweet….instead, I added the Tablespoon of powdered sugar in the egg mixture.
– I personally feel that eating it upside down is the way to go…..that way you don't waste any of the sticky bits of heaven on the plate
Fall Treats
PUMPKIN MUFFINS–TWO INGREDIENTS

Ingredients
1 box Cake mix – Spice (Plain works too if you don't have the spice one.)
1 can Pumpkin (15 or 16 oz – not pumpkin filling)
Directions
Step One
Preheat Oven to 350 degrees
Step Two
Pour Cake Mix Into Bowl
Step Three
Add Ingredients Together in Bowl and Stir
Step Four
Pour Batter into Muffin Pan
Step Five
Bake for 15 mins, allow to cool and EAT.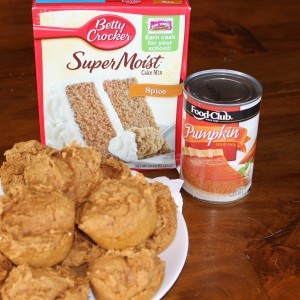 ---
THIS ONE IS SUPER EASY! The microwave is my friend.
Ingredients
In this recipe
Instructions
SEPARATE semi-sweet and orange morsels and place into separate uncovered, microwave-safe bowls.LINE large baking sheet with wax paper.MICROWAVE semi-sweet morsels and 1 teaspoon vegetable oil on HIGH (100%) power for 1 minute; STIR. The morsels may retain some of their original shape. If necessary, microwave at additional 10- to 15-second intervals, stirring just until melted. Pour melted chocolate onto prepared baking sheet. With small metal spatula or back of spoon spread chocolate into a roughly 12-inch circle. It does not need to be perfectly round.MICROWAVE orange morsels and 1 teaspoon vegetable oil on MEDIUM-HIGH (70%) power for 1 minute; STIR. The morsels may retain some of their original shape. If necessary, microwave at additional 10- to 15-second intervals, stirring just until melted. Place open plastic bag into large glass or small bowl. Pour melted morsels into plastic bag; seal. Push mixture into corner of bag. Cut very small hole in corner of bag.STARTING in center of the chocolate circle, squeeze melted orange morsels onto chocolate in circles, 1-inch apart until you reach the edge of the chocolate. Using a toothpick or wooden pick, starting in center, pull toothpick through chocolate and orange lines to edge. Then from edge, pull toothpick to center. Repeat until "web" is complete. Decorate edge of web with any remaining melted orange morsels.REFRIGERATE for 20 minutes or until chocolate is firm and set. With edge of small metal spatula, lift web from wax paper and carefully transfer to serving platter. Place spiders on or around web. Make sure to remove them prior to breaking apart to eat.